Parenting is, without a doubt, one of the most important ways that we conceptualize being a lover. Carlos has shared a lot with the blog about what being a father means to him. I haven't been sharing my thoughts on motherhood with you, because something that happened earlier this summer has put them all in disarray.
My mother broke up with me.
This is a long story, and one that is not going to be told smoothly.
In part, I can't tell it smoothly because its wounds are still fresh, and the events and their meaning have not had time to uncurl and make sense of themselves. In part, I don't really want to tell this story, because I cannot believe that it's true, because the things that have happened bring vividly back all the desire to shut down and hide that I work so hard to get past. I don't want to tell it, but holy shit, you guys. We have to talk about this.
My mom broke up with me. Both my parents did, I guess, but my mom is the one who sent me an email telling me that she can "no longer support [me], as long as I am married to Carlos." My dad packed all of the things that we left at their house, and my mom stood in the garage doorway and watched us load it into a truck.
I have gone around and around with myself about how to talk about, how much to tell. Like I said, I don't want to tell any of it, because I want to believe that I can keep it from being real. But the truth is this: my mom decided that she didn't like my marriage, and gave me an ultimatum. She told me that I had to choose between her and Carlos, and she stuck to her guns when I made my choice.
So, how did we get here?
My mom has always described herself as having a very long fuse, leading to drastic consequences once she hits her limit. She is also extremely conflict-averse. So her long fuse has been burning, with anger at Carlos and at me, and she only ever hinted about her unhappiness. She has just been burning, for months, maybe years, while she has been angry at me, angry at Carlos, and not talking to us about it.
You Don't Know About Any Relationship You're Not In


On this blog and in person, Carlos and I talk a lot about the principles that guide our decisions as parents. "Love your kid and treat them with respect." "Make their life better than ours." "Do better." "Take care of your family, you're stuck with them." For the most part, these are lessons that my mom shared with me explicitly, in discussions about how and why they raised us kids in the way that they did. It was not an accident that Carlos and I talked about having kids so early in our dating; having children, raising them to be good people who do good for the world is important to me. I knew I wanted to find a partner who saw the world the same way that I do, whose purpose and practice in parenting would be in line with my own. On our first date, in 1999, I hadn't worked this out, but by the time we went out again in 2009, I knew what I wanted in a coparent, and I saw it in Carlos.
I saw other things in Carlos, too. I saw a man who knew me when I was a child, who remembered me fondly despite the years I had spent running away from him. I saw someone who had purpose and direction, setting the terms by which he lived his life. And I saw a place for me in that life. I saw a person who knew me in some of my absolute shittiest times, who had always intimidated and intrigued me, and who thought I was really something, even after all that. He was, and is, a smart, strong, challenging, supportive person who understands where I am coming from and wants to go great places together. In him, and our relationship, I saw a future I wanted to live.
The time that Carlos and I have been married has not always been easy. I came to this marriage with A LOT of issues. I am afraid of many things, including my feelings, and confrontation, and other people's feelings, and vacations, and the ocean, and doing things wrong. At times, these fears can be paralyzing for me. I chose Carlos as my partner for life because our life together is better than my life with fear. I struggle with my fears every day, and I don't always come out triumphant. There have been times when the struggles of our life together have been miserable, but even so, my life is better with Carlos.
Take Care Of Your Family, They're All You've Got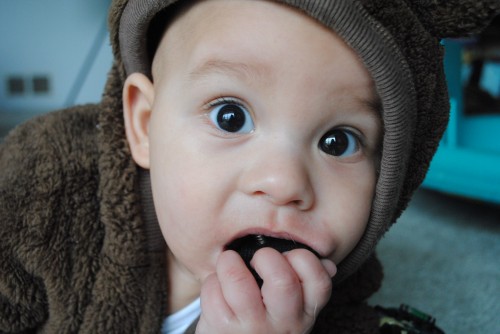 When it came time for us to embark on this grand adventure, I saw an opportunity to do something to nourish myself as both a child and a parent, and to support the relationships between my parents and their only grandchild. I knew that there was tension between Carlos and my folks, and I hoped that spending some time together would alleviate that. In my youth, and during my pregnancy, my mom was always by my side, sympathetic to the challenges I was facing, ready with hugs and wisdom and patience. I loved that about her, and I wanted to share that patience and experience with the family I am building. I wanted to practice parenting with the people who had raised me, to be in a place where their guidance and experience could help me and Carlos give Rockford the same kind of loving, respectful care that they had given me.
Instead of that, they placed the blame for my exhaustion on Carlos, met him with hostility, and refused to engage with either of us as adults. I can't help but feel like it's my fault that they treated us like children, for coming to them in a time of turmoil and changes. Why wouldn't they assume that I (and by extension, Carlos) would just do as they told us, without arguments or questions? I needed so much help. When we were there, it became clear that my parents dislike my choice of partner, don't respect the commitment I've made to my husband, and had no intention of helping us keep our marriage strong.
All this was pretty hard, but the worst of it came when we finally did launch onto the road. Getting our van ready took a long time, and while we were working, Carlos's grandmother died. There was no question for us of whether we would attend her memorial, and it became the hard line for getting us out of my parents' house. My dad described this as me "doing things on [my] husband's time line, not mine," as if there was some timeline on which he would have been comfortable with any of this happening. During our travels to Las Vegas and Portland, lots of moms took care of us, and I tweeted about how important that felt to me. This was the last straw for him, I guess, because it was the point where he started calling me an ungrateful child on twitter, and refusing to speak to me on the phone, instead carrying on an extended argument via text message. It was during this barrage that some important details emerged, explaining in part why my mom was mad, and why she hadn't (and still hasn't) spoken to me. That story isn't mine to tell.
You Don't Get To Choose Your Family


Here's the story that is mine, though: finding ourselves in a hard situation, my parents pressed me to make a choice between them and my husband. I guess their expectation was that I would fall into line with their demands. They didn't like the choices I was making, and tried to call me back to the fold. But the lessons that they instilled in me as a child have stuck. "You don't know any relationship you're not in." "You don't get to choose your family, and you have to look out for one another." "The things most worth doing are often the hardest."
I did get to choose my husband. I chose the family that I wanted to build, and there wasn't a question for me about whether I was going to defend that family. I didn't get to choose my parents, as awesome as they have been for me, but I did choose to stand in front of all my friends and family and make a commitment to Carlos. I renewed that commitment when I chose to have a child with him. The hard times that we have together are part of a bigger story. We have hard times on the road to great times. My life is richer, stranger, and more interesting because of my marriage to Carlos. I have lived bigger, better, more challenging experiences because of my commitment to him, and his commitment to me.
Carlos never asked me to ditch my parents. He never told me that I was being unreasonable by being hurt by their actions. He comforted me in my pain, and tried to calm my rage. He felt rage for me, and looked out for the best interests of our family. When the moment came, and my mom told me "you're not welcome as long as Carlos is in your life," I didn't feel any ambiguity. I felt anger, and hurt, and disgust. And I curled up next to my husband and cried.
She sent me her email in the middle of July. Some days I miss her so hard it hurts. Some days all I see is the myriad ways that her story makes up my story, and all the ways that I am her. She thinks that I hate her, and sometimes I do. Sometimes I reach for the phone to tell her about something funny I've seen, and the hurt catches my breath in my chest. I hurt, but she raised me to be an adult. So here I am. I am nursing my broken heart and taking care of the relationships that nourish me.